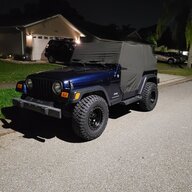 Joined

Sep 14, 2021
Messages

2
Location
What's up everyone!
First time TJ owner in the Tampa area and absolutely loving it.
Over the past year I've been having some under the hood work done to it and I'm motivated to get this thing to near tip-top condition.
Most recently, my ECM went on it (replaced with Wranglerfix ECM) and also had a new head put on, the oil pan gasket, rear main seal and obviously the head gasket replaced at the same time. I've had the coolant system flushed, new radiator and thermostat, brake system flushed, rotors, pads and calipers (drums in the back were fine). I also threw in an Airaid Cold Air Intake to make the drive a little bit more fun. At 115k miles I'm anticipating running into more mechanical issues in the future (primarily clutch, transmission and suspension).
Cosmetics are lacking a bit at this point because I care much more about how it runs/drives - fenders are old and discolor quickly, the paint has some scratches and some rust spots (I usually do a several day detail every six months or so since the sun is so intense), as well as stock bumpers/ headlights. The one big cosmetic upgrade were the rims and tires that I threw on earlier this year. I look forward to upgrading the stock stereo system pretty soon and definitely want to go for something marine quality since I live in Tampa.
I've been considering getting into the Jeep culture down here a bit more since this thing has been consuming more of my time and money than when I first got it.
I love this thing man. It's given me headaches for a good amount of the time that I've owned it and has spent quite some time in the shop, but every time I climb in it I just have a blast. I often get compliments on it for it's simplicity and makes my day when someone at the light gets my attention just to give me a thumbs up.
I'm definitely open to suggestions for cosmetic upgrades/marine grade stereo system upgrades or anything that could improve the security since I often just use my quick cover when the weather allows.
Feel free to comment and share, I'd love to hear/see some of the stuff y'all have done!
Last edited: