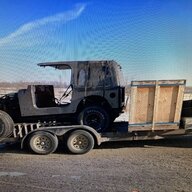 Joined

Aug 21, 2019
Messages

29
Location
Hi, new here and thought I would document the assembly of a TJ project that I scored for $1250 cdn...$800 USD!!
It was disassembled by a guy then sold to his buddy and then to me, it was a risk but I thought there were enough good parts I could recoup my money if it was a bust.
The guy even delivered to me on his trailer.
I call this a crate TJ because all the so called parts are in the crate behind the jeep.
I did check the frame for rust and it was in amazing shape, floor had a 4x6" rust spot on the torque tube and a 2x4" rust hole by the drivers roll cage attachment.
To my surprise it came with all the pieces and most of it bagged and tagged!!!
Both wiring harness's were removed and the interior completely gutted. Engine 4.0 L Auto is to have only 114,000km (yet to be started but it does turn over) and the 5 tires look almost new. It came with a 2" suspension lift and a 1" body lift.
So with all the interior out I thought I would repair the rust and then coat the tub with rockguard, underneath of fenders as well.
With the fenders off I thought I would clean and paint the front frame in the rngine bay along with the firewall in rock guard.
I have the interior back in along with the wiring harness's and connected.(with help from this forum...thanks Tom)
Next up is to see if it runs and moves before I complete the frame refresh and steam clean the engine.