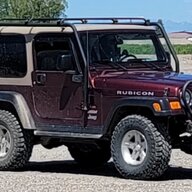 TJ Guru
Supporting Member
Joined

Apr 15, 2019
Messages

7,527
Location
I don't know the specifics of that Galaxie. I do know that what I posted is probably about 10% of the whole museum and almost every vehicle is owned by the same guy. Maybe not the Tameless Tiger though. I wish I knew for sure.



"Rope drive". Not the best name but I'll let you describe how that works. Oh yeah, maybe a rear mounted transaxle ?
A Corvair Transaxle driven by a flexible 5/8-inch-thick steel bar for a drive shaft, running through a curved torque tube coming from the heavy Slant 4 up front.
https://macsmotorcitygarage.com/secrets-of-the-1961-pontiac-tempest-rope-drive/
https://www.thedrive.com/vintage/55...ild-strange-things-heres-one-of-the-strangest