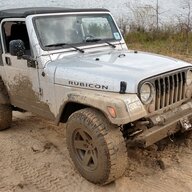 TJ Expert
Supporting Member
Joined

Aug 11, 2018
Messages

5,220
I'm a fan of well done car bodies on 4x4 frames or hybrds however we want to call them. I've seen some ghetto fab ones & some very well done ones. That from the looks was a good job. With a 304 or 360 & turbo 400 transmission & Model 20 rear I can think of tons of uses.
I could have sworn that I had taken a picture of a Gremlin done pretty good as a 4x4 but I can't find it so here's some questionable 4x4 cars that I have seen.
I think $600for this in 2007 might have been an OK deal:
I didn't know the asking price of this one back in 2005 but the body is looking fairly solid and it's got a full-floating rear axle and Jackman wheels
And a 4x4 Ranchero in 2005, IIRC it wasn't for sale:
That Ranchero looks waayyy better than a mid 70s El Camino on some mid 70s Blazer/Suburban?? frame back in the mid 80s. If I had a digital camera back then you'd be seeing pictures where the ground clearance wasn't modified but the bottom side of the whole body was about 3 ft from the ground and the homemade wooden body lift spacers which let everyone see the whole frame at any distance from the side. It also had both the Blazer and the El Camino steering columns cut off relatively even under the hood with with 3" (or so) sprockets welded on and connected with a roller chain.