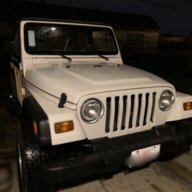 TJ Addict
Supporting Member
Lifetime Supporting Member
Joined

Jan 5, 2019
Messages

1,759
Location
I finally got tired of buying the latest and supposedly, the greatest pans. I went and dug out my Grandmas cast iron skillet and started using that. I also cleaned up a decent skillet my hubby picked up. He collects it, I just was never into them, till now.
He found a Wagner Ware 8 skillet recently and I decided to give restoration a try. Thought I'd share my results after my first time doing it.
This is the skillet before.
After Dawn soap bath.
After first round with Easy Off soak. Soaked them for about 3 days, then cleaned them and soaked them one more day after that.
After 2nd Easy Off soak and also vinegar and water soak. Ready for seasoning.
I probably could have got all the old seasoning off if I would have noticed it. LOL But didn't see it till I had already gave it it's final soap bath and was putting oil on it for the seasoning.
After 3 rounds of seasoning.
And finally, the cookie test!
It passed.
I also went thrift shopping last week and found a few more pans to do. I am in the process of gathering everything to make an E tank. It will cut the cleaning time in half. Can't wait to give that a try.