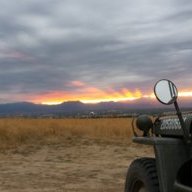 TJ Enthusiast
Supporting Member
Joined

Feb 18, 2017
Messages

377
Location
I don't know anything about PCM's. The OP said the problem has existed for "several years", so is it possible for the pcm to be stuck in those modes for that long without failing in other areas? Seems that it would show other things if the pcm was defective.
Love this site for all the great ideas. Right now I don't have any of these problems, but at 90+K, some may come, and now I have the possible fixes.
For rmckinney:
Even if you are not a "mechanic", look over the post Chris gave you and think about replacing all the sensors yourself. You might be surprised at what you can do. You would be in your own garage or wherever, on your own time with no deadline (hopefully). The experience you get from that just might come in handy one day if you breakdown on the trails. It's a Jeep....have fun wrenching on it, don't stress, and learn.
Ray