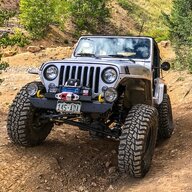 Joined

May 18, 2020
Messages

132
Location
First, a little background. I orignally built my Jeep to run 33s (2.5" - 3" suspension lift + 1" body lift, 4.56 gears, Revolution S35 upgrade with e-locker, etc), my suspension lift consists of 1" H&R springs, 1.5" aluminium coil spacers in the rear and JKS ACOS adjustable spacers up front. I have since moved up to 35s and am now working on the proper setup for them. I know this is backwards, but when the time came for my last set of tires, I got a fantastic deal on some 35" KM3s that I couldn't pass up. I immediately upgraded my steering linkage and brakes to be able to run 35s safely and added about an additional 1" of bump stop all around the keep the tires from rubbing. I am now working on getting the correct clearance. I am currently accumulating parts for SYE/tummy tuck install so that I can increase my lift.

I really want to increase my lift by 1" - 1.5" once I finish the SYE/TT install. I am currently considering the following:

1. Remove coil spacers and swap springs to 4" Savvy springs.

2. Keep my front adjustable spacers, add rear adjustable spacers and swap springs to OME 2" springs.

I have really enjoyed having fine adjustability up front for things like winch install and spring sag and I've often wished for the same adjustability in the rear, especially after installing a heavier bumper and heavy duty tailgate hinge for 35" spare.

I'm hoping I can get some input/feedback on the advantages/disadvantages of springs only vs springs and spacers combo.

Thanks!