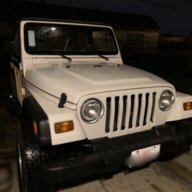 TJ Addict
Supporting Member
Joined

Jan 5, 2019
Messages

1,309
Location
Since the weather has gotten colder and wetter, I have noticed my starting issue has returned. In the last week, I have also noticed a slight miss at start up. Basically it has to crank longer then usual when I first try to start it. I do turn the key on and off a couple of times before I actually crank it over, because of what I read on the fuel pump draining back down, but it seems to take longer to start anyway. During the summer months it seemed to start pretty good, never had to do the on/off with the key.

What concerns me the most though, is the slight miss. It misses for maybe 10 seconds give or take. Then evens out and runs fine. I don't have a CEL yet, so what ever it is it must be so slight that the computer isn't catching on. LOL

I just thought it was weird that it was fine till the weather changed. The one thing I can think of that might be an issue, is maybe my distributors pick up plate can't remember what it is called right off hand) may possibly gotten a little rusty again since the rain started? It was rusty before and I used some sand paper to clean it up. That was back when I replaced the pick up coil. So, the part I'm talking about is the round metal piece that goes through the coil to make it do what it is supposed to do. LOL

Any thoughts of what else could be weather related that would cause this type of behavior?