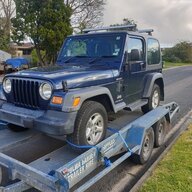 Joined

Jun 5, 2020
Messages

5
Location
Long story as short as possible;
Was on the beach, 3k from the entry/exit and the radiator boiled, opened the hood and the top plastic had disintergrated.
I got a tow back to the exit but the last 300 meters is really soft deep sand and the tow vehicle couldn't pull me through so I topped up with water and drove out.
I replaced the radiator, thermastat, water pump top and bottom hoses.
I now have a leak, dripping on the floor after a short run but I cant see where its coming from. The coolant dripping to the floor though is cold???
Any ideas?
I'm going to take off the fan and shroud and run it to temp in the shed and look for leaks, as its cold could it be thermostat?
I've not seen anything like it.
Thanks guys, you've helped lots so far on the build.