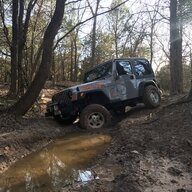 TJ Addict
Supporting Member
Joined

Feb 26, 2020
Messages

1,281
Location
2001 4.0, 5spd 260,0000miles

driving down the road on the way back from school, and the "check gauges" buzzer and light come on, look down and my oil pressure is >20 (it's normally between 40 and 60 all the time). Freak out, pull over and look for leaks, check the oil (right where it's supposed to be) run the engine, listen for odd noises. Nothing. Drive the Jeep cautiously back home. And she made it and seems fine, at this point I am reasonably confident the sending unit is junk, and needs replacing, does anyone know if this is another one of those "needs to be MOPAR" sensors or if a different brand will do?

looks like there >$20 on amazon.
Can't seem to find a MOPAR PN that anyone has in stock.
Is there a good known replacement brand?

anyone think I am I correct in my diagnoses and something else is wrong? She made the 1/2 hour drive home fine, so I'm assuming the mechical side of things is ok and this is an electrics problem, but I could be wrong.