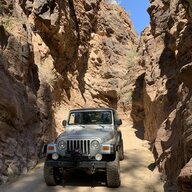 Just a "Web Wheeler"
Supporting Member
Joined

Mar 25, 2018
Messages

741
Location
In 1991 I built a house. At that time I could buy USA made items or imported mainly China or Taiwan. Honestly some of the Taiwan ones were better quality (plumbing valves)

My kids are 1996 -98 vintage. They both went to parochial grade school. Sometimes I would mention that all their toys and our Christmas decorations were made by the Godless Chinese Communists and their child slave labor.

In 2000 I bought a Kinze corn planter. In the "deal" to save a few bucks I did the final set up and assembly in my shop. Opening the boxes marked: Kinze, proudly made in the USA" out falls the Chinese roller chain, bolts, bearings.

2010 remolding the present house: Hardly any USA items to be found on the shelf. Lighting, faucets, etc. Electrical outlets switches and breakers still made here.

2014 Bought a CNH grain combine tons of Chinese hydraulic fittings, bearings, etc. Some bearings have failed at 400 hours.

Over the last 25 years China has become the worlds factory. You would be hard pressed to find anything built in the USA that doesn't have a Chinese part in it.

And now we have the Covid-19 and the saber rattling. Oh yes Mr. Politician, you look so tough for your constituents.

America while beating its chest: "China you're going to pay!"
China: "No soup for you". (fittings, PPE, antibiotics, spare parts and on and on)

Can America for once "play the long game" IE move production back here that involves national security?
Slowly ween ourselves from the china teet and never say a word?
Last edited: