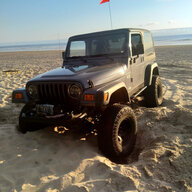 Sketchy Machinist
Supporting Member
Joined

Jan 8, 2021
Messages

549
Location
My TJ is a 2002 4.0 with 160k on the clock. Unfortunately I must have an earlier 02 as I have the 0331 head, not the TUPY casting. Over the last several months I've been chasing some misfire, cam and crank codes. Ended up replacing the cam and crank sensors with NOS Mopar sensors and that seemed to clear up those codes. Though lately I've been getting seemingly random P0301's and nothing else, and over the past several tanks of gas my mileage has dropped considerably, about 130 miles per tank vs the 180-200 I've gotten since I've owned it over the last 7 years.

It's had a very slow coolant loss for a little while, fixed some coolant leaks and thought I was good. Pulled plugs and did a compression and leak down test.

Compression test
Dry Wet (~3/4 Tbsp Motor Oil)
#1 115 115
#2 130 130
#3 140 140
#4 130 140-145
#5 135 145
#6 130 150

Leak Down Test
#1 60% Air heard from dipstick and radiator cap
#2 40% Air heard from dipstick and radiator cap
#3 30% Dipstick only
#4 33% Dipstick only
#5 30% Dipstick only
#6 27% Dipstick only

So I think that confirms I've got either a cracked head or head gasket issue between # 1 and 2. I had a bad fan clutch over last summer, and there was a day when it was 115* outside, couldn't keep the motor from hitting 220-230, got stuck on the highway and it just wanted to get hotter the slower I went. Anyways, that probably didn't help me out, but the Jeep is my DD, so if I'm gonna have to pull the head off I don't really want to dick around with dragging a possibly cracked head to a machine shop.

I'm curious what everyone things about a replacement Clearwater head? I've seen decent reviews of them on here, but some older posts on other forums and reviews they have don't seem too hot, but there's not any TUPY heads for sale local to me to have cleaned up. I figure the least I need to do is a head gasket and head swap and that would get me up and running like normal again.

But, in my research I've also discovered that apparently Chrysler has a TSB or something a long time ago about the 98 - 02 IIRC 4.0's having poor quality pistons or something along those lines, leading to them being more prone to piston skirt failure.

So, I figure with the head off that could be a good opportunity to replace pistons and rings assuming my cylinders aren't worn too bad, I do have a bore gauge I would be able to inspect them with. I'd probably do rod and main bearings at that point too, but I've done those before on an older 4.2 in the vehicle and didn't have any issues, so that wouldn't be too big of a deal. Then I'd basically have new everything except for the block, crank, cam and cam bearings.

It's a slippery slope though, and an expensive one too, but I'd really hate to just do a new head, have a skirt break in the next couple years and scrap my block, especially since right now I at least have the convenience of still being able to drive it while I gather parts and get a plan worked out.

There's not much of this work I don't feel comfortable doing, I'm just not setup for any of the machine work that could be involved, so that would get contracted out, but all of the disassembly, inspection and reassembly will be done by me and with my work schedule I have 4 days off every week to get it done.

What say the group, any ideas on what I should or shouldn't replace and any ideas on where to get a new or reman head?