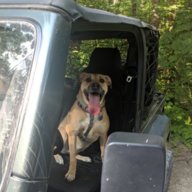 TJ Enthusiast
Supporting Member
Figured I'd share my experience with sears, their crazy points loyalty system and how it worked out to a pretty good deal with a little bit of patience.
I use a 160ish part Craftsman socket set regularly and wanted to expand my tool collection, since it included a few Craftsman Wrenches, I figured I'd stay on brand.
First purchase, a set of 20 ratcheting wrenches. Paid $60 bucks for the set and got $50 in "shopyourway" points for a future purchase.
https://m.sears.com/craftsman-20-piece-ratcheting-wrench-set-inch-metric/p-00946820000P
Found out after I purchased it I got half the $50 in points immediately and half a month later. I guess they wanted to retain me as a customer.
Made my second purchase, a 26 piece set of metric wrenches, sears was offering an additional $15 worth of points so combined with $25 worth of points, arrived at my door step completely free.
https://www.sears.com/kd-tools-carbide-coated-cutter-file/p-00999914000P
Patiently waited a month, got my $25 worth of points activated. Picked up the same set but in inch format. Sears was again offering $10 worth of points so was out of pocket $15.
https://m.sears.com/craftsman-26pc-inch-combination-wrench-set/p-00999913000P
Total out of pocket was $75 and now have over 70 matching wrenches .
Moral of the post, sears has weird marketing gimmicks but feel I made out pretty good buying tools that matched what I already have (I know they aren't American made anymore).
Good luck to anyone interested