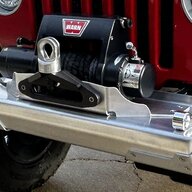 The Jeep Guy
Supporting Member
Ride of the Month Winner
Joined

Feb 27, 2017
Messages

8,477
Location
I got a local inquiry for my D35 with 3.73 gears. I know there are CL scams, this doesn't follow any of them I've seen. There are some grammatical errors which gives me caution. Seems a little haphazard to offer to send a check without seeing the item firsthand. Would you do this? I thought of using my work address, that way they don't have my home address.

Any advice woudl be helpful. Here's what the prospective buyer said,

"Sorry for the late respond. I'm interested in buying the item and i will be paying by via check. Will be adding extra $50 so you can keep it in my favor,once the check clears the pick up will be made. send your full name, address, and your phone number ,where check can be mailed to. Thank you"