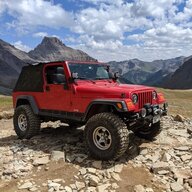 Joined

Sep 26, 2019
Messages

408
Location
TL;DR - ran the battery down, starter was just clicking. Tried to jump, cranks full speed but will not fire. Battery is 7 years old but it seems like as fast as it's cranking, it should be able to spark. Wondering if this is typical for a TJ or if I somehow fried something else at the exact same time. My past dead batteries have always started if they could crank.
ASD relay is good and all relays in the PDC are visibly good, though I admit I have not checked continuity yet as I'm in the middle of moving and the whereabouts of my DVOM are not currently known.
The 54th thing to go wrong with this move.
We got about 8" of snow the day we were moving in, and I threw my back out so I couldn't shovel snow. My wife attempted to leave to go clean at the old house and got 3 wheels of her 4runner off the off-camber driveway and stuck up to the frame.
After running the snowblower, I winched it up to 3 wheels back on pavement and got out to go try to drive it the rest of the way. I was revving the engine while winching 'cause at idle the voltage was dropping enough that it was wanting to die. I shut off the Jeep but left the winch rope tight to keep the 4runner from sliding farther downhill and back off the driveway. When I started making some progress but then stopped, my wife decided to "help" by pulling the slack out of the winch rope and trying to winch me in. Buuuut...I didn't see her doing this and the Jeep was off. When I realized what was happening I got out to start the Jeep back up, but...click.