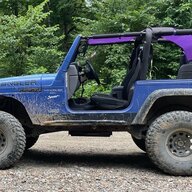 TJ Addict
Supporting Member
Joined

Oct 18, 2020
Messages

1,668
Location
2000 TJ, 4.0L auto. Cranks all day, but will not start. Occasionally we'll get a small backfire if we give it some starting fluid.

Was running fine, then died on us one day, had to be towed back & hasn't been able to be started since then.

Verified fuel pressure @ 49psi, 30 mins later was still at 27psi.

Verified spark.

New crank & cam position sensors.

We also get an intermittent no bus on the cluster, but prior to that we did not have any codes. Have verified that the wiring behind the valve cover looks ok.


Not sure where to turn at this point. Any ideas?