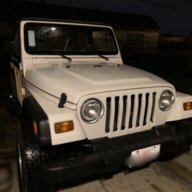 TJ Addict
Supporting Member
Joined

Jan 5, 2019
Messages

1,426
Location
I figured I would start a thread about Dash Cams. So feel free to share what Cam you have and some video from it. Let us know what you like/dislike about it.
I recently picked up this one,
https://www.amazon.com/gp/product/B07V6DT8GS/?tag=wranglerorg-20
I also got this hardwire kit so I could do away with the cig lighter style plug the cam came with. I had swapped my cig lighter for usb chargers a while ago so I had no way to make it work. The hardwire kit solved that and besides, it is cleaner that way.
https://www.amazon.com/gp/product/B078T5T21G/?tag=wranglerorg-20
I also bought this SD card and it seems to work ok in it. I only used it once with this card, so time will tell. LOL
https://www.amazon.com/gp/product/B073JWXGNT/?tag=wranglerorg-20
I shared a couple daytime videos in another thread, but I will share them here too. Here is the daytime front video. This was taken on a different SD card.
Here is the daytime rearview video.
This is the night time front video, taken on the SD card mentioned above.
And finally the rear.
As you can see the night time videos are really grainy. Nothing like it shows in the Amazon add. I may have figured out why, but need to drive tonight to test it. The cam comes set to a lower quality resolution. Today after viewing the video I went out and set the resolution up to 1080. I will drive it tonight and see what it comes out like.
I guess my only complaint so far would be that when I went to try to set the resolution, I couldn't figure out how to get it into the settings mode. No matter what I pressed, it never went to that mode. I even tried to read the directions and they are very vague. They just say what each button does. It say's one can set resolution in the stand by mode, but it never say's how to get into the stand by mode. LOL I ended up taking the SD card out, that way it was basically in stand by as it couldn't record without it. I set everything then put it back in.
The other thing is the it locks the videos too much. It is supposed to lock a video when it feels a jolt. I'm not sure if there is a setting to set it to be less sensitive or maybe I have it where it locks automatically and I don't know it. I was thinking maybe the Jeep just rides rough enough that it thinks it is getting jolted. I did however see a "Key" that means for it to lock that segment, so maybe I had that on and don't know it? I will have to look at it again to make sure that "key" is not on the screen.
Other then that, I don't have any other complaints.
I will be driving to work at night again tonight, so I will share how the video does on the new resolution settings tomorrow.