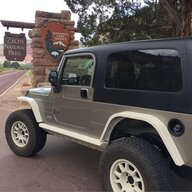 TJ Enthusiast
Supporting Member
Joined

May 22, 2020
Messages

832
Location
So my Jeep came with this nice Optima Battery when I got it. I expected it to last longer than the cheap batteries from Costco, but I guess I was wrong.
Optima Warranty is only 3 years and this one is just under 4.
I have never left electrical stuff on inside the Jeep to kill it, and I have charged it before multiple trips to make sure it was topped off.
I would swap to something else, except the PO installed a Nemesis Battery Tray that is 'Specific' for this style Optima Battery.
So I either buy another $300 battery or I have to ditch the top of the battery box and find a new way to hold a different battery brand.
Any other suggestions?