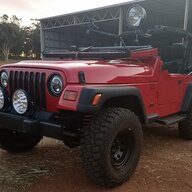 Joined

Dec 27, 2021
Messages

93
Location
Just picked up a pair of full size doors to complete my Lego collection of TJ parts! They were in a rolled Jeep so have some cosmetic scratches on the exterior but given I have to repaint them anyway, all good.

The interior, not so much. Both door cards are missing along with the window winders. I can replace the winders easily enough but factory door cards are attracting drug money. I dont need them to look original - just to be neat and functional. I was thinking of making up door cards using from 1/4" ply or similar and coating them with some vinyl or similar.

Has anyone done this and - if so - any tips or tricks?