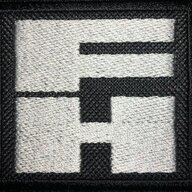 TJ Enthusiast
Supporting Member
Joined

Nov 11, 2020
Messages

280
Location
My original shift boot had developed a couple of worn-through spots, so I decided I'd make my own replacement. I tried to document the process if you think you'd like to attempt the same. My LJ is a 2005, it comes with the unobtainium metal frame, so these notes will work for like-equipped models. If you have a different model, you could still make a boot, but you would need to modify how you attach it to your console or frame.
First you need to remove the old boot and its attached frame from the Jeep (below, upper left) as you will be using the original boot pieces to make templates for your new boot. Notice the front and rear of the metal frame are shaped differently. The longer part is the front and the offset tab is the rear (below, upper right). I could just pull the vinyl/pleather off the frame by hand (below, lower left). Go slow and don't warp the frame. Before you rip the original stitches, I HIGHLY recommend you mark the panels and alignment notches for later (below, lower right).
Use a stitch ripper and take your time.
When you get the leather apart, flatten out the original pieces as best you can and trace them on some poster board; make sure you mark which panel is which and include the alignment notches from the originals (below, upper left). Then outline those templates on a piece of leather (below, upper right). I used a piece of oil-tanned leather sold by Tandy Leather under the name Kodiak. Being oil-tanned means it is better-suited for outdoor use, so it's a little more resilient than other types of leather. You don't need a whole side, only about a shoulder's worth of leather. Once cut, do a test fit of the panels, this is why the alignment notches are important (below, lower left). You can tell where you will need to make the new stitching holes by measuring from the original pieces. Then stamp the spots where you will adjoin the panels together (below, lower right).
This is the laborious part, hand stitching; technically this is saddle stitching which is stronger than machine stitching. You could stitch the panels with a machine if you have a thinner leather or a heavy-duty machine, but saddle stitching is still nicer/stronger in my opinion. Stitch the panels together (below, upper left). You will leave the boot open on one edge. Then glue or tape (I used double-sided seam tape) the extra edge material back. This is where you will stamp more holes to make the fancy stitches you see on the boot. (If you're curious, these are called Double Top-Stitched Seams.) Once all these holes are made (below, upper right), you will stitch each decorative seam. One done, you will need to join the open ends together. This is pretty tricky, but you should have the panel-joining holes on the edges of each fold. You hand stitch as before, but you will be fishing the needles through the channels the leather made when it was folded back on itself. This will close up like a zipper as you go (below, lower left). Once done, you'll have a nice boot (below, lower right).
You'll need to use good adhesive to fix the boot to the frame, I used contact cement (below, top picture). Make sure the boot's rear and front edges are aligned to the frame's front and rear, and going one side at a time, spread glue, fold the boot edges under, clamp in place and allow to dry (below, bottom picture).
When it has dried, you simply snap the frame back into the console piece and reinstall on the vehicle.
If you use a heavier leather, it will take some time to break in. I can already tell that will be the case with this one. If you need to, I recommend applying some liquid saddle soap, specifically 'Fiebing's Liquid Glycerine Saddle Soap' or Fiebing's Neatsfoot oil to get the leather conditioned.
Thanks for checking this out and good luck with your projects!