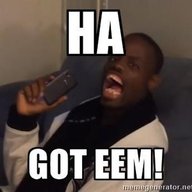 Joined

Jul 19, 2019
Messages

500
Location
This thread is to document my one off clone of the discontinued bolt on Dropkick Slyders.
Total build budget: $0
So I bought my 05 Rubicon several months ago to use as a daily driver/commuter along with my Goldwing and thanks to this forum, I have gone through the suspension and soundsystem. After the diy custom touch screen radio mount
(documented here)
I was completely happy with my TJ, except for one thing. The PO had installed these hideous nerf bars that were structurally useless and worthless as steps (I almost busted my ass several times when it was wet.)
Me: "Man, some low profile sliders with an integrated step would look slick."
Wife: "Unless you can get them for free, forget about it. You have already spent enough money on that THING."
Maybe it's just my competitive nature, or my love for design and fabrication, but I took this as a challenge. So here goes my $0 rock slider build.
First off the criteria. Most important, as mentioned above, no budget whatsoever. I live in South Louisiana, so not much rock crawling here, but I wanted it to at least be semi functional leaving my options open, but most importantly, I wanted a low profile that worked along with the stock Rubicon rocker guards. After some image searches I saw the bolt on discontinued Dropkick Slyders and liked the looks. These are the best pictures I found online and designed mine like this but to weld onto the frame instead of bolting
Off to my scrap pile to see what I had on hand. I found two 10' joints of 2x2 steel tubing and some 1/8" plate left over from a reverse flow BBQ pit trailer I built a couple of years ago and started designing based on the pictures posted above.