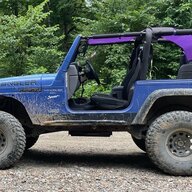 TJ Addict
Supporting Member
Joined

Oct 18, 2020
Messages

1,474
Location
Let me guess, NTJC?? I despise that group. And you are absolutely right, everybody's answer to anything is just where to take it. The average IQ level of that group is "Moron".
It's maddening, although if you really pressed me on it I'm not sure I could explain why. What do I care if you want to overpay for all your repairs. You might not have the tools or expertise, or even the space to do it. Or maybe you value your time more than I do, or you just hate doing that sort of work. It's really none of my business. It just doesn't feel very "jeepy" I guess. But clearly the masses have spoken, and those shops have a steady train of customers. Maybe I'm the moron.
Although I've actually made a few friends by just responding to a "need to replace my thermostat, how many thousands of dollars should I set aside for Dallas Offroad to do it?" with a simple offer to bring it over and we'll replace it in my driveway for $20.