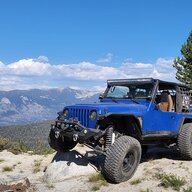 Wrong guy to follow
Supporting Member
Joined

Sep 24, 2019
Messages

671
Location
Alright everyone I am making it official. Let use this thread to plan out a trip this year to the Dusy!!
The run dates are 8/18-8/22. We will be running the trail from the Courtright Reservoir side out to Kaiser Pass Rd.
Let's meet at the staging area near the Pumphouse and expect to be on the trail by 8am.
The plan is to take a full day at one of the lakes to enjoy the hiking and fishing.
Radio of choice will be GMRS.
This is a VERY DIFFICULT trail so there are going to have to be some basic requirements for people to join. You MUST have RATED recovery points front AND back, some form of communication (CB, HAM, GRMS), at least 33s so we can drag you over the rocks, lockers are HIGHLY recommended (again we can drag you through if we have to), a winch is also HIGHLY recommended, recovery gear is a big plus and of course you will need to bring camping gear.
Forest Service page:
HAM RADIO REPEATER INFORMATION​
Radio coverage on the Dusy is scarce. This trail very remote
.
From high ground, with an open path to the west, we found these repeaters to be workable.
146.820- 141.3
/ KE6JZ Shaver Lake ( best coverage )
146.790- 100
/ K6JSI Meadow Lake (
http://www.google.com/url?q=http://www.winsystem.org/&sa=D&sntz=1&usg=AOvVaw17At2y1s-hDfS9EjZnLHuy
)
List of people going:
@U8MYDZT
@Fish Family JKU
@squinko
Last edited: