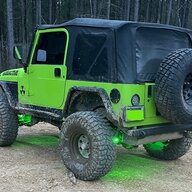 TJ Enthusiast
Supporting Member
Joined

Oct 27, 2020
Messages

549
Location
I'm still pretty early on in my Jeep offroad life so I haven't spent a ton of time researching every topic. One thing that comes up is east vs west coast wheeling.
Is it just dry/rocky wheeling vs wet/mud/sometimes rocky wheeling?
When I hear a jeep needs to be built for one or the other, why? What is it about the build for one that makes it weak for the other?

I wouldn't mind playing around with the suspension calculators but I don't know what I'm aiming for, I would think (maybe naively) you pick a tire size, decide how much wheelbase you want and then dial in the arm lengths and angles.