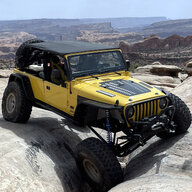 I miss the snow...
Ride of the Month Winner
Lifetime Supporting Member
Joined

Sep 3, 2020
Messages

4,228
Location
What? In what situation is your radiator coolant hotter than your engine?
The coolant is heated by the engine so it shouldn't be any hotter than the engine.
I don't think the coolant going in would ever be hotter than what's coming out. On the contrary, I don't think dumping a radiator full of cold coolant into a hot engine is probably very good for it.
Good points all - misstatement on my part. I guess what I should have said is having the coolant come out of the radiator at a temperature higher than the thermostat.
Since the thermostat sets the lower limit and the fan sets the upper limit, setting the fan below the thermostat just makes it so the fan is always on. I'd rather get at least some range where the fan isn't running. I don't think I'd go to 221 though, I'd probably stick with 210. Unless it was variable speed and I could set a proportional band to first turn on at minimum speed in the low 200s and max out at 215-220 or something.
I've never thought the fan sets the upper limit. If that were the case nothing would change if you removed the thermostat, other than it would take longer to reach operating temp. In all my experience if you remove the thermostat from a properly operating cooling system, the engine will run cooler.
But thinking about that - maybe that explains why the 4.0 runs at 210 with a 195 degree thermostat???
A while back on my rig, I had the thermostat fail and it overheated. I removed the thermostat expecting it to run cooler - it did not. I interpreted that as my cooling system not having enough excess capacity. I then swapped in a much more powerful e-fan. Now without a thermostat it runs in the 160 range. With the 180 degree thermostat in there it runs consistently at 183-185.