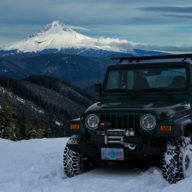 Jeep Enthusiast
Supporting Member
Ride of the Month Winner
In 2014/2015 I was on the hunt for a vehicle that would be capable of exploring the PNW and camping/overlanding in all seasons and conditions. I've always had a love for Jeeps, however, the TJ has to be one of my favorites. It is the perfect blend of modern and old. Among the other reasons, there is great availability of aftermarket parts and add-ons!
After much searching I came across and fell in love with a forest green 2000 TJ Sport. The Jeep was mostly stock and totally rust free
The TJ 'sports' the 4.0 and NV3550 5spd and came with a hardtop. Otherwise it is fairly basic as it has no A/C and Dana 35. It did come from the factory with a soft-top as well; some of the hardware was installed when I bought it, however it didn't have the top anymore.
As great as this TJ was, it did have a few fluid leaks, which did help me leverage the price in my favor
. I sorted out those problems quickly and easily and then began to enjoy the Jeep!
I went on a number of day and camping trips in the TJ and slowly started to figure out what it needed. Over the years I added mod after mod as I'd see fit. That brings us to where we are today:
All of the mods were installed by me, on my own, in a driveway, with tons of time spent on these forums researching different options and peoples opinions
. So far I have been very pleased with the build. The TJ has done everything I've asked it do, and more! As of now the build is as follows:
31x10.5 R15 Goodyear Wrangler DuraTrac Tires.
3" TeraFlex Flex Arm Lift Kit w/ Bilstein 5100 Shocks
Advanced Adapters SYE & Tom Woods Rear Driveshaft
RT OffRoad HD Steering Kit
Warn M8000 Winch w/ In-cab Controls (Post #9)
ARB Dual Air Compressor (Post #21)
KC Gravity LED Headlights
Rugged Ridge LED Taillights
Garvin Wilderness ATS Front & Rear Bumpers
Garvin Wilderness Rock Rails
Rubicon Rocker Guards
Crown Performance Stainless Brake Lines
Rugged Ridge Dual Battery tray w/ Optima Blue Tops & Hellroaring Isolator (Post #9)
Sony Headunit w/ Polk Speakers (Post #67)
Cobra 75WXST CB Radio w/ 3' FireStik FireFly
Tuffy Hood Lock
Interior LED Lighting Upgrades
Bedlined Tub
Custom Yakima Roof Rack
I quickly started with the roof rack, rock rails, and tires; that was enough to get me out and exploring! Eventually I installed a winch as I soon discovered driving snow covered FS roads was one of my favorite activities
.
The lift, SYE, and steering upgrades were done to allow future upgrades (tires), and to gain some more off-road ability. Everything else was just salt and peppered in as I saw fit, and could afford, of course
.
As happy as I am with it currently, this is a Jeep, and it's never done
! These are some of the important things I'd still like to do:
33x12.5" DuraTrac tires. I've been happy with the 31x10.5" tires, but the wider tires should help more in the deep snow.
Regear & Lockers. I've currently got open D30/D35 with 3.07 (I know, I know..), I plan to go with Eaton E-Lockers and 4.10 or 4.56, depending on the tires. I'd love to build up a D44 but haven't found any deals close by. Not opposed to doing a Super 35.
Fog Lights/Bumper Mount Lights. I love the KC Gravity LED headlights, they're bright and have a great pattern! However there is a dark spot a few feet in front of the Jeep, it'd be nice to get some extra light down there particularly for FS roads at night.
Interior restoration. My interior is pretty sun faded and sports the typical door panel cracks, I'd like to fix those issues and get everything looking nice and new again.
Custom overhead console. Eventually I'd like to install a ham radio in the Jeep, and it wouldn't hurt to have a place for another interior LED light up front.
Compass & Temp Rear-view Mirror Upgrade. Certainly not a necessary feature but I would really like having the ability to know the temperature.
Heated Seats & Bartact Covers. Do I really need to explain myself here?
Exogate/MORyde Hinges. My tailgate could use a bit of help; it is a bit squeaky and rattly.
Anti-rock/SwayLOC. Not 100% decided on what one I'll go with, but I know I want one or the other!
Of course I will post updates as the TJ continues to be worked on, everything from maintenance to mods!
Thanks everybody! I couldn't have done any of this without the knowledge and inspiration I've gained over the years from reading these forums.
If anybody has any questions, suggestions, or just wants to discuss please feel free to post!
Last edited: