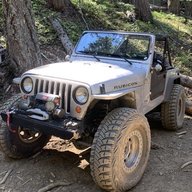 Joined

Oct 9, 2019
Messages

568
Location
So Today I met up with a friend of mine and went to Evans Creek up here In Wa. During the summer this place is known to be pretty easy, but we used to go there all the time since it's so close. In the winter this place gets real nasty but they now have seasonal closures to protect some dumbass bird that doesn't live there, and for erosion, F that.
But anyway we went up there today and it was pretty fun, there was some snow but everything was still not difficult, but surprisingly not busy. We figured it was going to be packed since they will close it tomorrow.
Like I said snow, but snow with good traction for the most part, not too many pic's but here they are and most from my drivers seat and some cell vids of me.
My friend Dan has the Ron Burgundy TJ on 35 pitbulls