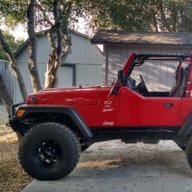 TJ Expert
Supporting Member
Ride of the Month Winner
Thanks for the positive feedback. I'm really liking how it's turned out too.
It had been on my mind to do things to it for years. And I definitely hadn't made the best use over the years, which was a bit of a waste. So now it's a new era and it's been great.
It's fun having had a bunch of history with it, and now changing it up. I actually ran across a video that had my Jeep in it from 2000. Good times!
View attachment 62385
It's like part of the family!