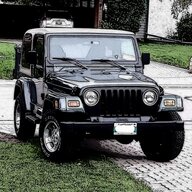 Joined

Apr 23, 2021
Messages

6
Location
First off, hello I'm new to the forum and a new owner of a 02 Sahara.

This is my first jeep I've owned , after looking for a year I finally found what I was looking for.

My question is while i wait until the warmer weather begins so i can repaint my new fenders I've decided to change the timing chain. I dont know the previous history of the vehicle and having 240k km on it, I decided why not.

I already plan on changing all hoses, the belt and tensioner , thermostat. coolant flush.

Now do you think it would be worth the extra money to do the water pump and clutch fan ? Theres nothing wrong with it that I know of but since I'm in there I figured maybe?

Also I believe the rear main seal is leaking too so I might as well do a rear seal, oil pan gasket and oil pump as well?

This is the slippery slope I find my self on, any thoughts?

Thanks in advance.