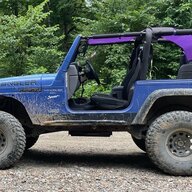 Joined

Oct 18, 2020
Messages

444
Location
Went to Gilmer for the first time. Small group this time, just me & Larry Bird (a Rubicon Gladiator; white & makes lots of 3 point turns). Complaint #1, the map cost $3. Complaint #2, it's a piece of crap. We found signs for trails that weren't on the map, the ratings were different at the trailhead than they were on the map, and most trails had unmarked forks that weren't reflected on the map either. I don't mind an adventure, but I don't like the concept of not having any idea of how much trouble I'm heading into. The rating system was also a little less forgiving than what we've seen at Hot Springs or Bridgeport. A 2 star at Gilmer is probably going to have at least 1 challenging spot where you'll scrape if you're not 4" up. Not a huge problem, but it means the 3's are harder than 3's elsewhere. But that's all relative based on your personal experience. For perspective, we've never seen a 3 star that we thought was too sketch, but we found several that just weren't worth the risk of body damage...maybe that is the influence of the guy in the Gladiator who is making a big monthly payment, IDK.
The main roads were super dusty with lovely Texas red dirt, and when it lightly rained it turned into red mud flying everywhere. I'm not sure if that's better or worse than the dust. They were also out in the wide open, so prepare to be hot. The trails were very well wooded & shady, plenty of technical stuff to work through, plenty of challenges. We'll definitely be back, but I'm not sure if it is worth the 5 hour trip that our Oklahoma friends would need to make.
Also, forgot to disconnect. D'oh.
Freaking prima donna Gladiator, I had to pull a tree out of his way because he could not make this here tight turn w/o scraping his rear fender flare. And he was too wide to shoot the uprights on the straight path. I'm impressed with what it can do and where he will take it, but three times in 2 trips I've had to use a snatch block to pull him sideways off an obstacle because it couldn't make the turn. Glad to be the hero, but I love my short wheelbase (except on really steep stuff where I poop my pants).