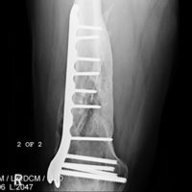 Over Analyzer Extraordinaire...............
Staff Member
Supporting Member
Joined

Dec 12, 2015
Messages

32,702
Location
Well I just had to share. Two weekends ago my daughter and I took the Basic Motorcycle Safety course. Me to get my motorcycle endorsement back on my license after my amputation and her to get her motorcycle endorsement for the first time. Now this young lady has been riding quads since she was 7 years old and Jeepin since she was 3. So she is a motorhead almost as bad as her dad. I was real proud of her when she passed the class and her birthday was last week. So this past weekend I took her out bike shopping. I've been taking her to bike shops for the past few months once we had signed up for the class trying to show her all the different bikes available. I've been riding a Harley since she turn 5 becasue she has been my passenger. Before that I rode sport bikes.
My CBR1000 that I had before I went to Iraq in 2004. When I came home due to being wounded in the leg I couldn't sit on a sport bike any longer so I traded it in on something a little less sporty.
My 2005 Buell XB9SX in Hero Blue that I bought after I was able to walk again.
When my daughter was going to be turning 5 which is the legal age to be able to ride in WA I bought this 2007 Harley Nightrain Softail.
Picking her up from preschool on her 5th birthday.
So then I ran into a Harley Road Glide Custom one day when I had stopped by a Harley dealer. And I fell in love with the look. So I bought this 2010 Road Glide Custom. Of course then in 2011 they came out with the Road Glide Ultra with is the full touring version.
So two years later I ended up with one as a Christmas present.
This is what it looks like now. I haven't been able to ride for the past 3-4 years due to my leg injury but now I am getting back into riding again.
My first time riding my Harley since my amputation. This was on 28 April 2019.
So the really BIG news for my daughter is that today dad surprised her with her own motorcycle. She had test drove this bike this past weekend and REALLY liked it. So I went over to the dealer and picked it up today for her. Happy Birthday kid...………….
Getting ready for her first ride on her new bike. It is a Honda CB500XA. Nice little bike that she can grow on and will be able to ride for a few years if not longer. I took it for a spin just to get an idea what it was like and how it rode. I was impressed with how peppy it was with my fat butt on it.
Last edited: