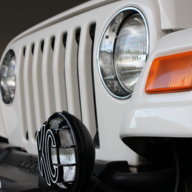 TJ Addict
Supporting Member
Bought this Ford (driver side drop) Dana 44 front housing with the idea of pressing in new tubes, new inner C's, and using TJ outer guts to have a front Dana 44 to match my rear.
However, this housing has a leaf spring (spring under) provision cast into the housing. So its a no-go for me and the TJ.
$250 OBO, money talks. Located in Birmingham, Alabama, local pickup only.
Can deliver to Georgia or South Carolina for gas money.