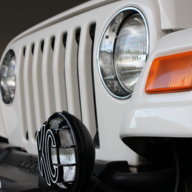 TJ Addict
Supporting Member
Bone stock 2006 Stone White TJ, Golden Eagle Edition
14,xxx miles
4.0 Liter 6 Cylinder
42RLE Transmission
NP231J Slip Yoke
"Gold Painted," Golden Eagle Ravine Wheels (For Sale)
Golden Eagle Embroidered Cloth Seats,
Dana 30 Low Pinion Front Axle,
Dana 44 Rear Low Pinion w/ Drums
Hard Top w/ Factory Deep Tint (27-30%?)
Full doors w/ No Tint from the Factory
Factory Silver Dash Trim
RBK Version 2 Factory Radio
Factory Sub
Long Center Console w/ Two Cup Holders
I purchased this wrangler a few years ago as I ran across it on Craigslist in Hawaii. The son of a bank owner/founder was selling it on behalf of his father because his father had too many vehicles in his collection. The father was getting old and wasnt doing anything with the mass collection of cars that he had built up over the years. So the Jeep was sold to me.
It doesn't really have anything done to it because work and school keeps me pretty busy day to day. And it's currently stored in the garage, begging me to drive it daily. I bought it on a whim based on the condition of the Jeep and the milage. It had some options I liked like the factory hard top and the 4.0. I am not a fan of the auto 42RLE transmission. But as I keep saying to myself, it wont be in there for long... I actually almost traded it for a 2006 Red TJ with black interor, 4.0, a 6 speed, and 19k on the clock. I didnt... but I do wish it was red.
Short Term Build Goals:
Custom tube doors with metal skins, paint matched, Truck-Lite LED headlights, LED interior light swap, some unique interior upgrades, rear bumper upgrade, 31's, OME 2-1/2 inch lift springs with Rancho shocks, JB Conversions super short SYE, JE Reel DriveShafts, Regeared, Polished/Machined Rubicon Moab wheels, Disc brakes on the Dana 44.
Long Term Build Goals:
Pull and sale the factory 4.0, trans, and xcase and swap to a GM LS on a standalone harness or a modified factory harness. GM 4L80E, Dana 300, More to come on the long term stuff.
Last edited: