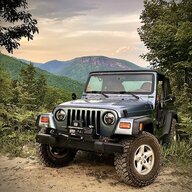 TJ Enthusiast
Supporting Member
Joined

Oct 14, 2022
Messages

391
Location
I've been chasing oil leaks in my jeep since I bought it. I fixed the rear main seal, the oil pan gasket, and the valve cover gasket, and that has all greatly reduced the leakage. However there's still more that I've been ignoring since it's quite small, but decided that I'm gonna fix it now that school is over and I have a bit more time to work on it.

It's on the front side of the engine, I've thought that I just installed the oil pan gasket wrong, but looked closer today and I kind of think it's coming from above. Checked the valve cover, that's completely dry. To me, it looked like it's coming from behind the crankshaft pulley thingy or whatever it's called. Just found out that there's such thing as a front crankshaft seal… I took out the fan and fan shroud, along with the serpentine belt tonight, and plan to get the crankshaft pulley off tomorrow.

If this does happen to be the front crankshaft seal, what do I need to buy?

Thanks!