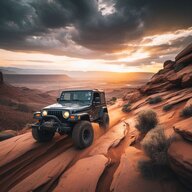 autos are better - WRWD508
Supporting Member
Joined

Feb 28, 2017
Messages

10,934
Location
I'm at my father in laws for the week, without my Jeep or motorhome to keep me occupied. My mind starts to wander and I come up with nutso ideas about my Jeep. This is one such idea.

I have aftermarket replacement fenders. They are pretty flimsy, probably 22 ga steel. Super light, but a good cross eyed stare will bend them. They bend back, just as easily. My passenger fender has bent enough though, that its got a bit of a crease in it now. Apparently, it's not very fond of my drive by touch method of wheeling.

I'm not really a flat fender guy. MCE's are hideous, in my eye. Genright are ok, motobilt looks ok. I actually like metalcloaks. But, I really like the factory fenders. I like the turn signals and the way they wrap the grill. I like that they factory looking, making my Jeep look a little more "sleeper" vs a full on rock crawler build. So, I'd like to keep them.

There are two things I don't like about the factory fenders (or mine, in particular). The clearance to the rear (which I have dialed in) and the flimsy nature of them. My pass fender kinda make my Jeep look like it has Bell's palsy, It's a little droopy after a few years of wheeling.

Has any one added a little bit of material, strategically, to stiffen the fenders up? I'm thinking a few small pieces of 12 ga to help them hold their shape. I know I don't want to go crazy, as too stiff a fender will just ruin the tub, but I am getting tired of slipping into a tree and folding my fender up. Or just walking by the damn thing and bumping into it…same net result.