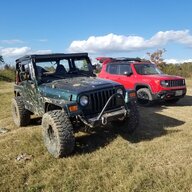 Joined

Nov 27, 2020
Messages

57
Location
Hi guys, I've been using this forum as a resource, but now I need some specific help.
I had my upper control arm axle bushings replaced, and noticed that the passenger side bushing was loose. I can clearly see a gap around the bushing. I took the CA off, and was able to push it out with my finger. I tapped it back in with a very light hammer, and it sunk all the way to the rim of the bushing sleeve. After a short trip down a local trail, it has come back out about a quarter of an inch already. I've been advised to tack weld it in place, but I'm afraid that doing so will melt the bushing inside. Do you think I can tack it in without damaging the bushing if I just hit it lightly at the 3 and 9 position? Or is there another solution? How far should the sleeve be into the axle holes? Probably not sunk right to the rim, correct?
I just bought this TJ, and I'm new to Jeeps, and very new to mechanicing. The TJ had 58k miles on it, but had horrible death wobble, would occur every time I reached 40mph, even on smooth road with no bumps. I was able to eliminate the death wobble by replacing all of the control arms except the rear uppers. I installed a new track bar as well. The only thing I didn't want to attempt myself was pressing out the axle bushings, so I paid a local shop to replace them. I used Moog bushings, part # K3128 bushings. I assumed both driver's and passenger side bushings were the same because I couldn't find anything online to refute that. The driver's side is tight as can be.
Here's a video of one of my first times off-roading. Some buddies from FB met up and attempted to teach me how to handle mud. It was a blast.