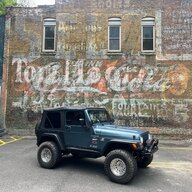 Trail Rider
Supporting Member
Joined

Aug 14, 2020
Messages

86
Location
Yesterday started out like any other day… went to father in laws to check on him and when I came back out the jeep cranked but didn't start….hmmmmm…. Pulled a code p0320, cps…. That'll cause it so I hopped in his truck and I go to adanced auto and get 1…. $71, WTF…. Go back to his house and of course it's the wrong one, I know better than to go to a parts house blind with a 97 TJ, seems they used several different year parts to build… got money back and after 3 parts houses I found that auto zone had one at their location 15 miles away, so off we went… $105, WTF…. Get back home and plug it in, crank no start, I should have checked for spark before I left the first time but the cps code made me feel invincible, so I pulled a plug wire off the plug and of course left the metal end on the plug so I had to fix that… check for spark and I've got spark (probably had spark before I changed the cps),,, sprayed starter fluid into the manifold and it attempts to start, fuel issue, darkness falls… so today (after a night of reading till my eyes bleed) I've got to see it I have fuel pressure (no Schrader valve), check the relays, check the fuses, and look for anything wrong with the wiring to the fuel pump… of course I filled it full of gas 2 miles before I got to my father in laws house!…. I Love my jeep!

*update*…. All fuses and relays good, fixin to call a tow truck when father in law says sometimes hitting the gas tank with hammer may get it working… while under the tank I see this thin braided silver wire hanging… ground wire came loose… regrounded and drove it home… I love my jeep!

so this grounding strap goes to the filler neck… I've read several posts saying this is more a safety thing then anything… if this wire is broke free should it cause a fuel delivery problem?