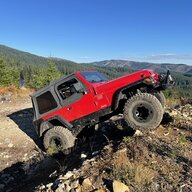 Joined

Jul 25, 2021
Messages

240
Location
Alright, here's what's going on. I've had this 1997 TJ for a few months now. I've never been able to get more than 3/4 tank of fuel into it when filling it. You have to run the pump as slow as possible by hand or it will shut off. Once it gets to around 3/4 full it will not allow you to get any more into it. There is no splash-back problem. It simply won't fill.
Until now, I hadn't been able to fix the issue. I checked the normal stuff like removing the filler neck. It was all clear. The smallest vent line from the tank was disconnected. I reattached it on the frame side. Made no difference.
I came across some videos showing how the spring loaded check valve inside the tank gets frozen up. Today I decided to drop the tank and see what's going on.
Once I got the tank down, I noticed the base of my filler is made differently on the inside of the tank. It does not have plastic clips inside the tank and it cannot be removed. It's also black, not white, and has an orange plastic ball inside with no spring. Hmmm. I searched the bottom of the tank for a spring or something else related to this mechanism. I found no such thing...but I did find this black cap sitting at the bottom of the tank. Wtf.
It says "Blitz" on the top and a google search revealed that Blitz was a large manufacturer of gasoline cans that went out of business back in 2012. Somehow this cap ended up inside my tank. I don't think it was affecting anything, but at this point I was wondering what kind of stuff is really going on here.
In the next video, you can see inside the tank and inside the base of the filler neck. The orange ball was stuck at the top of its cage, so I freed it up. Now the ball moves freely up and down with no resistance. Is this a damn ping pong ball??? At this point nothing would surprise me.
If you look closely, you can see the bottom of the black cage appears melted. The camera wouldn't focus well and I wasn't gonna shove my phone inside the tank, but you can see what I'm talking about. Sorry for the shitty video. I had inhaled plenty of gas fumes by that point.
Has someone done a weird repair on this tank? Maybe they cut the bottom of the black plastic cage off, inserted a ping pong ball, then plastic welded the bottom? Or is this a normal piece of equipment on early tanks? I can't really think this would do a damn thing in a rollover, for example.
Mine looks different than this next picture I grabbed from another thread. His is broken from attempting to remove it. He mentions a spring and you can see the valve is white, no ball. His is a 1999 model TJ.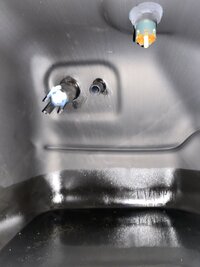 (Here's his thread for credit.
https://wranglertjforum.com/threads/stuck-on-fuel-tank-issue-for-my-1999-tj.55740/
)
Can anyone with some experience offer their thoughts on mine? Is it rigged with an orange ping pong ball to prevent splash back? It sounds weird, but after some of the stuff I've found with this Jeep… it's possible.
Last edited: