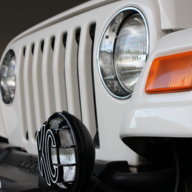 TJ Expert
Supporting Member
Joined

Jun 19, 2017
Messages

4,121
Location
awesome thread guys/gals.
i have a 97 2.5l 30rh dana35 dana30 running 35's with stock 3.73 gears. its amazing horrible lol im in the process of gathering parts for a 4.0 ax15 swap next winter and what im gathering is 4.88 gears would be good with the current set up and the 4.0 ax15 set up? or would you suggest 5.13s?
Stock Dana 35? Stock width axles? With 3.37's, the 4.0 swap will make of little difference.