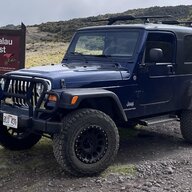 Joined

Feb 20, 2022
Messages

56
Location
Looking to install an engine skid plate and have several options in mind, two of which are the Genright "Engine/Transmission Skid Plate Kit"
https://genright.com/shop-by-vehicle/jeep-tj-97-06/engine-transmission-skid-plate-kit
/ and the "UCF Aluminum Engine Skid Plate"
https://undercoverfab.com/aluminum-...num-engine-skid-plate-for-03-06-tjlj-40l.html
The UCF seems a lot like the Savvy engine skid, which people seem to like. The Genright is intriguing because it seems like the actual aluminum skid plate could be, if damaged, unbolted from the skid plate support frame and replaced fairly easy because it is just flat plate (and I can bend/weld the steel support structure if it needs attention, I just don't have the equipment to weld aluminum). Both of the skids say they are made of 6061-T6 - looking to stay "lightish" with this build, but I'm not fanatical about it.
My jeep is an LJ with a custom crossmember and transfer case skid so I can fabricate whatever I need to attach either skid to it, so that part doesn't really matter. Jeep also has the standard Currie "stock style" suspension, so no funky interference issues to worry about.
I also like the Savvy engine skid, but I don't think it is available, but I probably should contact them and double check.
So does anyone have experience with the Genright engine skid? Or the UCF? Pros and Cons, other than price? What am I missing?
Thanks for your help!