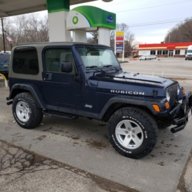 TJ Addict
Supporting Member
Lifetime Supporting Member
Joined

Jan 17, 2018
Messages

1,294
Location
Last night, Lovell Sampson decided that after nearly 98 years on this Earth, it was his time and passed away peacefully in his sleep.
Pap was a WWII Veteran of the Pacific Theater, a father, a grandfather, and great grandfather. One of the hardest working and toughest men I've ever met, he bailed hay in the summer heat working his family farm well into his 70s.
A man of few words, but he was always a joy to be around. One of the strongest grips I've ever felt, and quick to laugh.
I'm so grateful I got to speak with him on Christmas this year, even for a few minutes.
After his wife, Goldie, passed away (Gram), I always felt he was bit lonely all by himself in that house. My dad would visit with him with Fleury every night, but I imagine it's hard to go on living when you lose your partner of so many years.
Maybe that's just me projecting, but it just proves to me how strong and determined Lovell was. That each day, you still had to put your underwear on, and keep moving, even as those small tasks get harder and harder.
Thank you, Pap, for everything you've done for me and our family over the years. Your love, graciousness, and humanity are what we will remember.
Rest in peace, you've earned it.