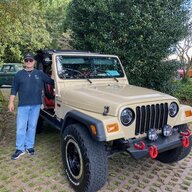 Joined

Jan 15, 2019
Messages

2,079
Location
or just do it early in the morning before the heat sets in.

Letting someone else do it for you is a great way to get it back with the radiator and shroud each mounted by two non matching bolts and the system filled back up with regular green antifreeze, and who knows, maybe tap water. If you're lucky they might even toss your old spring hose clamps and "upgrade" them with some shiny new worm type. And a $1500 bill.
That's why it's great to have a mechanic you can trust and not just a "parts" changer.