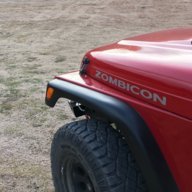 zombicon
Supporting Member
Joined

Jun 15, 2017
Messages

4,289
Location
This is for the TJ campers here.
I have a Honda 3100i for my big trailer and it is awesome, so I was looking for a Honda 2000 for my RTT trailer, but it was a 1000 bucks, and I really just don't need that nice of gen, but I wanted something that would work and last. Based on the reviews I thought this was worth a try.
https://www.summitracing.com/parts/aip-sua2000i
So here is my findings:
This thing is worth the money. The reviews are good. There is minor setup, really easy. It doesn't come shipped with oil, but it takes standard 30w. I used Valvoline in mine. It comes with a funnel for the oil, and some tools. It comes with a battery charging harness. It also comes with the kit that if you buy two, you can run them in parallel.
The last time I went camping my buddy brought his RV and his batteries were completely dead, so we put a strip on my gen, and it charged my battery and ran my electric cooler, while charging his batteries and running his onboard fridge all on low speed.
Low speed is quiet like a Honda, but high speed is louder, but not louder than a regular gen, but louder than a Honda inverter gen on high. Still not horrible especially for the price.
When I first started it brand new it started on the second pull. And since has started on the second pull every time.
The only drawback is that it won't let you run it out of gas, so if you are going to store it you have to drain the carb. That sucks, but rather than draining the carb I run mine every month or so to warm it up and keep the gas flowing.
I wanted to share this with people that are looking or a quality cheap Gen. I am super happy with mine.