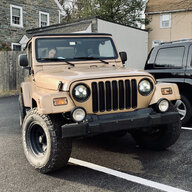 Joined

Nov 9, 2019
Messages

55
Location
Hey everybody,

I posted about a month ago about the bolts in my alternator bracket being seized up. Of the two bolts holding the alternator to the bracket, I only got one out. The head came off of the other one and is still stuck in the bracket. One of you generous members had the graciousness to send me a replacement alternator bracket!

Anyway, I want to replace the two bolts that hold the alternator to the bracket and the torx screw that holds the belt tensioner to the alternator bracket. I have a brand new tensioner that I will be installing.

Does anybody have any tips on acquiring these three pieces of hardware?

Any advice is appreciated! This is for my 2000 Sahara with a 4.0.