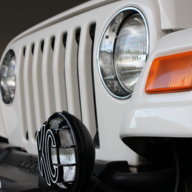 TJ Expert
Supporting Member
Joined

Jun 19, 2017
Messages

3,029
Location
The article you posted is quoted with,
"What's the difference between heavy duty and super duty? Well, the Tom Wood's Super-Duty 231 conversion kit comes with the manufacturer's unique rear output flange that allows the installation of a 1210, 1310, 1330, and 1350 series driveshaft with a conventional two-joint CV (double-Cardan) setup, or a 1410 series
conventional two-joint driveshaft, all without changing the flange.
"
JB Conversions still offers the rear output companion flange yokes
(far better than a eared yoke IMO on many fronts) on their 32 spline output shafts for the SYE on both the 231 and24transfercases.
http://www.jbconversions.com/products/yokes_flanges/1966.php
Like you pointed out what
@mrblaine
mentioned on another site, if the factory designed and engineered it, it might be in best interest to keep it or re utilize it. Like I have mentioned before, I am a huge fan of companion flanges over typical eared flanges both on output shafts and pinion shafts.