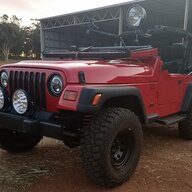 Joined

Dec 27, 2021
Messages

113
Location
Hi Guys,
'99 4.0L with 80,000 miles on the clock. Recently retrofitted factory aircon to it (which works a treat!) which meant the radiator was out which is when I done stuffed up!
Did a long (500mile) drive yesterday in hot weather when the engine suddenly started making a loud ticking noise, steam started coming out, the temperature gauge pegged into the red and then the engine stalled. All happened within about 20 seconds from the first noise to the stall. Pulled over and discovered the bottom radiator hose had come loose as I hadn't retightened the hose clamp after the aircon fit so massive fail on my behalf.
Had access to enough water to get the radiator refilled (took nearly 2 gallons) and she restarted first pop. Completed the rest of the journey with no major problems but a couple of small indicators that things may not be 100% with the engine and wanted an opinion on whether I might have done permanent damage to the head.
The Good:
No sign of water in the oil
No sign of exhaust bubbles in the radiator
No obvious vapour signs out the exhaust
Power remains good and it drives just fine
No obvious coolant loss
The Bad:
Temperature during the return trip was slightly higher by 3 or 4 degrees but it was hot with lots of hills and aircon on so unclear if that was just the environment or running tap water in the radiator
The oil pressure was down slightly and looked to be about a pint low on oil but I had just done an oil change and may have slightly underfilled it. Added a bit more and oil pressure stays on the same reading (about 20PSI) as before but after an extended run if I come to a complete halt the oil pressure drops to nearly zero and the check gauges light comes on - goes away pretty quickly. I've not seen that before but may not have been paying attention.
When I finished the trip I noticed a noise like boiling or bubbling possibly from the radiator overflow tank - not sure if that's normal
I'm going to replace the radiator, hoses, water pump and thermostat regardless as the radiator is end of life and the water looks pretty cruddy in there even after a recent flush.
Should I be considering lifting the head and replacing the head gasket or should I just keep driving it and keep an eye on it?