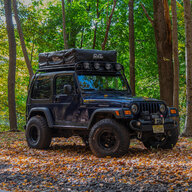 Joined

Jan 17, 2021
Messages

14
Location
As the title says, the heat in my 2006 Wrangler TJ is not blowing hot. This started to happen after I replaced the heater core. I want to be as thorough as I can with this post so here is a rundown of everything leading up to this moment.

My TJ had a leaky heater core, but the heat still blew super-hot. I tore the dash apart and decided it was a good idea to replace most of the hard to get to parts in the heater box to avoid having to take it all apart again in the future. The parts replaced were the heater core, AC core, blower motor assembly, blower motor resistor, AC line O-rings, and AC accumulator. After getting her all back together I noticed the heat no longer blew hot. It was now blowing room temperature. I then proceeded to top off the coolant and pull a vacuum to get rid of any air pockets in the system. Still Nothing. I then replaced the thermostat and thermostat gasket thinking it might be that, with no luck. I then checked all the doors on the heater box from the outside and they seem to be functioning fine. I took the electric motor off of the blend door and was able to feel it fully open and fully close when I moved it with my hand. I parked the Jeep on a steep incline hoping any air bubbles would rise to the top and come out the radiator cap, added a bit more coolant and still nothing. I then disconnected the two heater hose lines from the core in the firewall and coolant came pouring out, indicating there is no air pocket in the core. The water pump was replaced about 2 years ago, so I don't think it's that.

Other important information is that when I rev the Jeep up either when driving or still it will blow hot for a second or two then return to cold/room temperature. When I turn the center hot/cold climate knob to cold the air does blow colder, just when I turn it to heat it is not hot. So, I think that it is working fine. I am using MOPAR coolant mixed to about 70% coolant 30% distilled water. I am at a complete loss here now and don't know what to do. Looking for any advice at all and thank you in advance!

Parts Replaced:
Heater Core
AC Core
Blower motor assembly
Blower motor resistor
AC line O-rings
AC accumulator
Thermostat
Thermostat gasket
Coolant added multiple times

Jeep:
2006 Wrangler TJ Sport 4.0 with AC/Heat

TLDR:
Heat is not blowing hot after replacing all the parts listed above. Can't think of anything else it could be. Plz help.