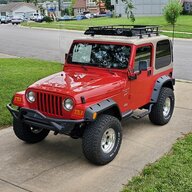 TJ Enthusiast
Supporting Member
Joined

Jan 3, 2019
Messages

125
Location
Soooo, I've had a Jeep itch for a while. I'm a car guy, motorcycle guy, etc. I like a lot of stuff, lol. Most itches I don't scratch. Had wondered if the Jeep was one of those "never meet your heroes" type of vehicles. Short legs, (slightly) overweight, bad back.....just didn't know if it would be a good fit, or more precisely, that I would be a good fit for a Jeep. So, til now, I've admired from afar with the occasional youtube viewing, vintage model purchases and the higher than normal resale values keeping the itchy flare-ups at bay.
I work in the parts department at a Ford dealer. Wife works crappy retail hours that currently give her Mondays off, so she comes to work and we go to lunch. 4 weeks ago, we were leaving for that lunch, when I saw a red, soft top Jeep parked in the front of the building. Now, it could be there for any number of reasons. But I thought maybe, just maybe, someone might be looking at buying something from us and that the red Jeep might end up in our possession. More than likely, it would end up in the wholesale pool, based upon the very short viewing as we rolled by. Went to lunch, came back, and it was gone.
A week later, I spied, what looked like a red, soft top Jeep in our used car pool. A staging area for all incoming trades. Some get checked and put on the lot, others go to auction. I swung back around to look, and it was the lunchtime Jeep. Its condition was such that there was no way it WASN'T going to auction, LOL. Rusted out tube bumper, filthy interior, not locked driver door, ratty tube step bars, no rear bumper and some of my least favorite aftermarket aluminum wheels to round out the package. Oil change sticker said 175,000 miles! But it was an automatic (I don't care either way, but if the wife needs to drive, it would have to be an auto), already had an aftermarket radio, the frame didn't look too bad, the tub didn't look too bad, and didn't appear to have been molested any. Maybe just the kind of project that would suit me.
It took 2 weeks to find the key. The salesman that took it in on trade, put the only key in the wrong spot, so the used car manager couldn't find it when asked. I sort of let it slide for a week or 2. After all, I wasn't sure I should pursue it or not. I don't need a project. Have a couple cars and a bike, so no shortage of things to do. I'd been looking at craigslist, so I knew what the pricing was for stuff. Finally decided to press the issue on someone finding the key. Found out a couple techs were possibly in the hunt for the Jeep too. I quizzed the salesman again, as to the process once he has the key in his possession, and that must have triggered him to retrace his steps, as I ended up with the key not 10 minutes later.
So, that was Monday. Bought it yesterday. Don't know if this will be a 6 month affair once I find out I'm truly allergic to it, or if I can live a long and healthy life with it for years to come. The help I've gotten from this forum over the last 4+ days was well worth the membership into this forum. If nothing else, I just wanted to say thanks, but hope I'll be around for a while. Got a bunch of stuff done already, but still have stuff left on the list.
Chris in Kansas.
As it sat, cast off from someone's life......
Last edited: