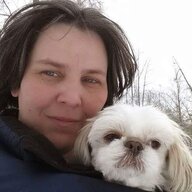 New Member
Supporting Member
Joined

Mar 25, 2021
Messages

3
Location
Hi all!
After a year of stalking this forum and learning a lot, I'm finally ready to start making this one mine. I don't have a lot of plans (or a lot of cash). I do like to buy once, cry once…. I'd rather have less but better.
I Picked up my 05LJ about a year ago. It's a lifelong southerner with no rust and 89k miles. My previous jeeps were 97 and 06 TJs. Have always had a Jeep or motorcycle (sometimes both). I get to see my old 97 every day, a co-worker bought it almost 15 years ago and he now lives on the same road.
There's not a whole lot of great riding around here, mostly FS roads and a handful of off-road parks. Beasly Knob is just over the mountain. We do have GA red clay & mud in spades, but that's not my thing.
Current config is a 3.5 RE lift with 4.88 gears on 33s. I've also had the 42LRE serviced and a radiator mounted transmission cooler installed as a preventative measure.
Phase One Plans:
Remove heavy junky bumpers and put back to stock (with a fresh paint job and minus the jugs) with new Tomken winch plate with Brush Guard (found this via the forum) up front and a new class III hitch.
Install Currie Antirock. Considered the SwayLoc. Mostly decided that it wasn't necessary given the type of riding we have here. However, always up for having my mind changed. LJ is not my DD (unless it's sunny and warm)
Install new Track Bar – stock one got a new hole drilled when the lift was put on by the PO. Haven't decided on which one. Considering going to the Currie Currectlync Steering.
MORryde HD spare tire carrier.
MT Classic III in black, and perhaps some KM3. (this all depends on how much the important stuff costs)
I have a lot to learn and am open to suggestions on other improvements that should be done.
Pam