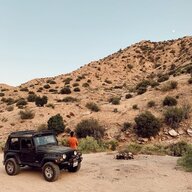 Joined

Mar 5, 2022
Messages

28
Location
@pagrey
@Harcust
@The Goblin
First, thank you for all the information in this thread. I'm a stubborn guy, so "the noise" is bothering me, but it's not my primary concern...yet.
I have a misfire in cylinder 1 that's been bothering me for months. Replaced plugs, coil rail, switched plug cylinders, switched fuel injector cylinders, and other "cheap stuff". Coincidentally (maybe), I also was getting CPS and CKPS engine codes for a bit, but ended up replacing the OPDA after noting a lot of "play" in the wheel. All codes went away but the haunting 301.
I'm here on this thread because I've noted that several forum posts and youtube videos have showed that misfire can be caused by pushrod/lifter/rocker arm issues...
Anyhow, noting some carbon fouling on the plug for #1, I tried a compression test(dry) and found 65psi for cylinder one. All others were at or above 120psi, and within tolerance of each other. I'm doing a wet compression next and leak-down, but wondering if anyone else with "the noise" also had engine codes relative to misfires?
I don't want to go tearing down the engine to fix the misfire code, intriguing as it is to fix the noise. Really just trying to get her back in shape so that it'll pass smog check.
It's probably worth noting the engine has 276k miles on it. Pretty well kept other than the dusty conditions of California desert seem to exacerbate squeaks and rattles here and there. Not to get off topic on this thread, but wondering if anyone else was seeing misfire codes? Also, IF I do decide to tear into the engine (if a burnt valve or something major is causing the issue), should I go ahead and do lifters, pushrods, chain, etc like with a CompCams kit? I mean, if you're going to the trouble of getting that far into the engine with that many miles, is it better to just go ahead and redo those elements?